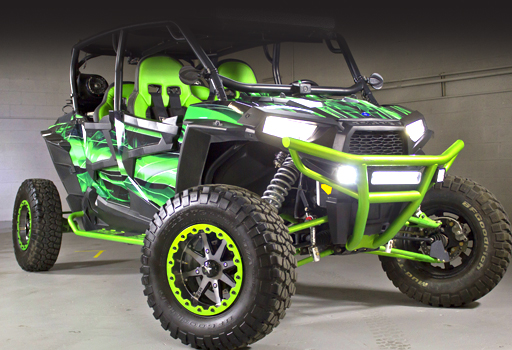 CUSTOM RZR & UTV ACCESSORIES
The desert and mountain environments surrounding Las Vegas offer endless opportunities for exploration by UTV. When it's time to prepare your favorite toy for your next off-road adventure, the professionals at 24/7 Motorsports have you covered with unlimited ways to customize your UTV with appearance and performance enhancing modifications that will set your wheels apart from the crowd.
Polaris makes a popular UTV called the RZR. Off-road enthusiasts canchoose from several models that seat two to four riders. Trail models are designed especially for traversing any width-restricted trail, while sport models feature a wider wheelbase with superior handling characteristics. The RZR Xtreme Performance model provides the ultimate agility, suspension and power for tackling even the roughest terrain.
The customization experts at 24/7 Motorsports can help you enhance your RZR or any other UTVwith a replacement roof, windshield, doors, bumpers, rear panels, mirrors, lights, harnesses, storage options, tires, wheels, hunting accessories and more.
You can choose from full or half windshields models made of glass or poly. Poly windshields are constructed from optical-grade polycarbonate material for maximum protection against impacts at a great price.
Although your odds of encountering rain are greatly reduced in the desert, installing a quality windshield wiper-washer kitcan ensure you have optimum visibility on demand.
Side and rearview mirrors are also important for visibility but advancements in technology make it possible for manufacturers to produce rearview mirrors with cameras built right in. Forward and rear facing wide-angle lenses allow users to capture the action on the road ahead as well as passenger reaction to the ride. The camera features a 5" color screen for real-time views or video playback after the ride. An SD card slot allows for easy sharing and video transfer to alternative devices.
Our talented mechanics can set your UTV up with a new cage roof and/or cage rear plate in a color that visually complements your ride. Polaris also offers custom-made heavy-duty rock sliders for the RZR-4. These large diameter steel tube rock sliders absorb impacts when negotiating the toughest terrain without sacrificing ground clearance.
You can put your UTV to work by having our mechanics install a winch kit. You and your riding partners will never get stuck again with a winch that delivers heavy-duty torque for exceptional pulling power.
You can count on the customization experts at 24/7 Motorsports for enhancements to your UTV that fit your needs and budget. Call us today at 702-757-2471 for more great ways to enhance the performance and appearance of your sand or dirt toy.