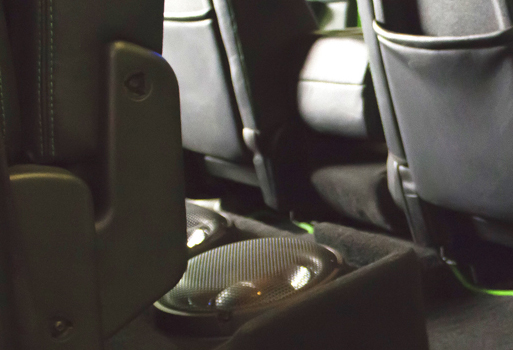 CUSTOM STEREO SYSTEMS
With advancements in audio technology, vehicle sound systems have come a long ways since the days of AM/FM radios and cassette decks. When it's time to upgrade the audio system in your vehicle, the experts at 24/7 Motorsports can help you design a custom stereo system that meets your specific needs.
From heart thumping subwoofer drivers to power boosting amplifiers and speakers that deliver crystal-clear sound with no distortion, we can install an amazing stereo system for your car, truck, RV, or boat.
Simply replacing your factory-installed speakers can make a huge difference in sound quality. The majority of stock speakers, even so-called premium models, are made of lightweight paper and other cheap materials. Even if the sound is decent when the system is new, eventually the materials will degrade and the sound will start to distort.
Manufacturers of aftermarket speakers use only high-quality materials to provide vehicle owners with superior sound and better durability. 24/7 Motorsports offers equipment from only the most respected names in audio technology, including Pioneer and JL Audio.
If your stereo sounds fine when you're driving around town but you have a hard time hearing it at highway speed even when it's cranked, an amplifier can deliver more power to your speakers and give you more volume without distortion. A high-quality amplifier can also improve clarity, providing you with better sound quality regardless of the volume level.
Speaker placement can make a big difference in the sound quality of your vehicle's audio system. Our experienced installers get as creative as they need to when it comes to mounting your speakers in all the right places to give you the best sound quality possible.
As sweet as it sounds, perhaps your high-performance engine is interfering with your ability to hear your tunes. If that's the case, 24/7 Motorsports can offer affordable solutions such as the installation of sound deadening material in strategic locations.
If your music collection is in a digital format, we can set you up with a receiver that allows you to stream internet radio or plug in a digital music player through a USB port. Hands-free options allow you to enjoy your music without diverting your attention from the road.
You can count on the Las Vegas custom stereo experts at 24/7 Motorsports to help you design an amazing sound system for your car, RV, or boat regardless of budget size. Call us today at 702-757-2471 to start designing the best sound system your money can buy.