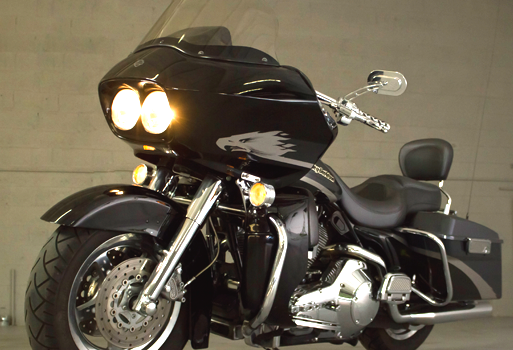 CUSTOM HARLEY DAVIDSON MOTORCYCLES
At 24/7 Motorsports, we believe every motorcycle should be as unique as its rider. Our experienced custom cycle specialists can help you remodel your motorcycle to match your personal style.
No custom motorcycle project is too big or too small for our team of experts. You have thousands of options when it comes to making your motorcycle uniquely yours. From custom paint, to stylish mirrors, custom pipes, and more. The specialists at 24/7 Motorsports are ready to help you put together the bike of your dreams.
We can put together a package that is guaranteed to enhance the appearance of your cycle and turn heads everywhere you ride.
Fresh paint on the gas tank and fenders will instantly take years off the appearance of any older bike. Colors are available in every shade imaginable and in a wide variety of finishes, including gloss, matte, pearl and metallic.
Nearly a dozen different handlebar styles offer numerous ways to customize your cycle. Cruisers and beach bars slope towards the rider to allow for comfortable seating in an upright position, while drag bars are nearly straight and force an aerodynamic riding position because the rider has to lean forward to use them. Ape hangers are especially popular with trike and chopper owners. These unique handlebars extend high over the seat. Fully extended ape hangers are 20 inches long but mini models are lower so the rider does not have to reach so high and wide to grip them.
Trikes are popular with many enthusiasts and there are styles to suit the traditionalist and the avant-garde rider alike.
The Bobber trike is the choice of the purist who prefers a cycle stripped to the bare bone with the necessary parts only. With no fenders, no elongated grill and no flashy extras, the sleek, lightweight Bobber is built for performance.
A Chopper trike is an excellent choice if you really want to go all out and express your personality. There are many ways to customize a Chopper, including extending the front wheel forward to increase the rake angle. Rear suspension is optional and is a matter of rider feel and preference.
Go ahead and trick your trike out with a custom saddle, fog lamps, a sissy bar, fenders, a sound system and custom exhaust system components or mix and match your favorite features to create a ride that is undeniably uniquely yours.
Whether you have a hardtail chassis, a softail, a chopper or a trike, 24/7 Motorsports is the place to go for custom cycle work to suit your budget and lifestyle.