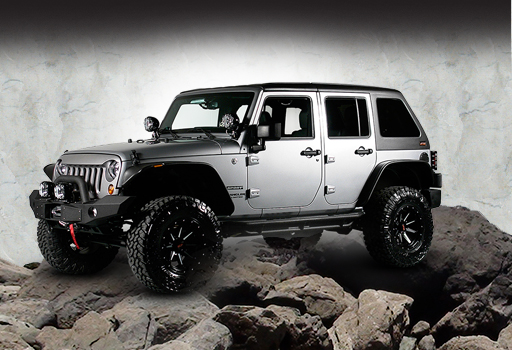 CUSTOM OFF-ROAD ACCESSORIES
Off-road enthusiasts have an overwhelming desire to stray off the beaten path and explore the great outdoors. Whether your vehicle of choice is a truck, an ATV, a UTV, a dune buggy or a motorcycle, 24/7 Motorsports is the best place in Las Vegas to explore endless ways to customize your off-road vehicle.
Our off-road specialists have the expertise, experience, and tools necessary to modify your dirt toy to your exact specifications at a price you can afford.
We can prepare your 4X4 truck or jeep for any off-road excursion with heavy-duty wheels and specialty tires designed to carry you across even the most rugged terrain. To enhance the overall performance of your vehicle, allow our talented mechanics to install rugged shocks, suspension and drivetrain components. We can also set you up with lights, winches, cargo racks and a wide variety of other accessories.
Leave your ATV or UTV in the capable hands of our off-road specialists and you may not even recognize your toy by the time you get it back.
Your vehicle can light up the night with LED or halogen lights in a wide range of sizes. We can install LED light bars to the brush guard, cage, bumpers, roof or just about anywhere else.
Does your ride need new seats, more mirrors, a handy winch or a stronger roll cage? We've got you covered with custom parts and accessories for virtually any model ATV or UTV, including the popular RZR.
Are you building your vehicle from scratch? Talk to us first about custom fabrication, paint and upholstery services that will make your ride a pleasure and a privilege to drive.
If exploring on two-wheels is more your style, we can beef up the suspension, replace your seat, install fenders, or make other improvements to your favorite motorcycle. A slick new paint job, color-coordinated wheel spokes and other appearance enhancements to ensure that you always ride in style.
Before you head for the nearby desert dunes or mountain trails, let the experts at 24/7 Motorsports equip your off-road vehicle with everything you need to tackle even the harshest terrain.
Don't trust your precious off-road toy to just any garage in Las Vegas that claims to offer custom services. Count on the experts at 24/7 Motorsports who share your passion for getting there in style.
Call us today at 702-757-2041 to learn about all the ways you can customize your motorcycle, truck, ATV or UTV to fit your budget and outdoor lifestyle.