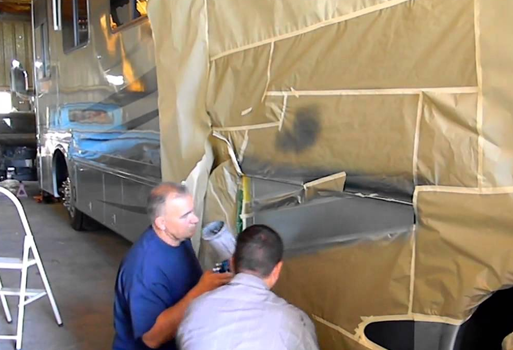 RV CUSTOMIZATION
RV owners enjoy the luxury of hitting the road in style for a dream vacation with no hotel reservations necessary. Las Vegas RV owners who want to get the most out of their home-away-from-home rely on the specialists at 24/7 Motorsports for all their custom additions big and small.
If you own an older RV, you are probably missing out on the convenience of a high-tech GPS system to help you find your way along the highways and byways. Our custom RV experts can help you select and install a brand new navigation system that will ensure you never get lost.
Are your seat covers looking work and tired? We can fix your RV up with new upholstery that fits your budget and lifestyle. From family fun-mobile to party camper, we can update your recreational vehicle with new upholstery, new carpeting, lighting, storage options, appliances, and everything else you need to enhance your next RV adventure.
Your RV will be the perfect place to spend quality time with the family with durable fabrics that resist stains and allow for easy clean up after your next road trip.
If you want something sporty and eye-catching, we can install leather seats with custom embroidery in any design you choose. We can add contrast stitching and a logo, monogram, or any design to the chairs, bench seats, dashboard, and/or door panels.
Colorful LED lights can be installed inside and out. Replacing your RV's fluorescent or incandescent light bulbs with LEDs saves you money in the long run. LED lights last longer and produce less heat, which keeps your cabin cooler. They also require less energy than traditional lighting options and that will extend the life of your RV's battery. Because they operate without a filament, they are impervious to vibrations created when you are driving down the road.
Lighting fixtures are available in a wide variety of colors and styles to create just the right vibe in your RV.
Installing a stylish awning provides shade for outdoor entertainment and exterior lighting allows you to enjoy the great outdoors even after the sun goes down.
We can even install a state-of-the art entertainment system complete with a flat screen TV and speakers so you can enjoy movies, sporting events, and music concerts under the stars.
Before you hit the road for your next RV adventure, call the experts at 24/7 Motorsports for customization options to fit your budget. Contact us at 702-257-2471 to start planning your custom RV project today.