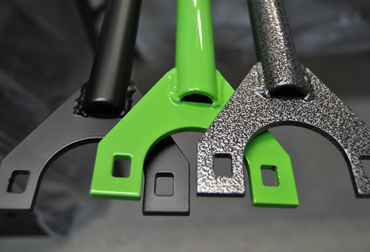 POWDER COATING
We specialize in custom powder coating as well as powder coated parts, including:
*Rims
*Trim and grilles
*Engine parts
*Interior parts
Powder coating is an innovative process that protects and finishes metal parts but it is not new. In fact, manufacturers have been relying on this process for protecting pipes against corrosion and insulating electric motors since the mid-1950s. 24/7 Motorsports provides professional powder coating services for Las Vegas passenger vehicle, boat, motorcycle and off-road vehicle owners.
In addition to its ability to stand up under harsh conditions with minimal scratching, chipping or fading, powder coating has become more popular because it does not release harmful volatile organic compounds into the atmosphere in the same way that liquid paint does.
Our specialists pay attention to the smallest details, including proper preparation of the substrate to ensure the metal is free of any oil, dirt, dust and paint before the powder coating process takes place. Stripping the part down to the metal surface allows for a flawless finish, something our experts strive to achieve with every project we do.
Most people are familiar with the concept of static electricity attracting dust to a solid surface. Powder coating is achieved by taking advantage of this electrostatic attraction. An extremely fine powder is blown through a specialized wand that adds a positive charge to the powder. The part receiving the powder coating is grounded through a cable, which allows the charged powder to adhere to the surface. Any area of that part that should not be powder coated is masked off with special materials that can withstand high temperatures.
After applying the powder, the part is baked in an oven at around 400 degrees, which melts the powder and cross-links it to create a tough, durable finish. Unlike a traditional wet spray paint, which requires extensive curing time, powder coating dries extremely quickly and is ready for use a soon as it is removed from the oven and is allowed to cool.
Powder coating is available in hundreds of colors and although it offers exceptional durability, it is vulnerable to acetone and other harsh chemicals. This makes it important to take proper care when cleaning a powder coat finish.
Powder coating is also available in a wide variety of textures. The process can be engineered to create veins or wrinkles during the baking process. Wet spray paint provides far fewer possibilities for creating special effects.
24/7 Motorsports specializes in powder coating and can give your wheel rims, grill, trim, engine parts and interior components a fresh new look that will stand up to the harshest conditions.
Call us today at 702-757-2471 for all your automotive, motorcycle, and marine part powder coating needs.