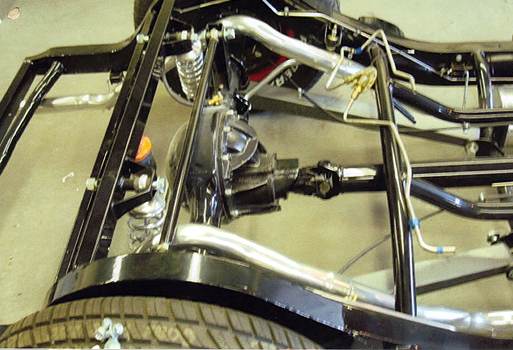 CUSTOM AUTO / STREET FABRICATION
When Las Vegas car enthusiasts need custom auto work, they count on the experts at 24/7 Motorsports to bring their dreams to life.
Our team of custom fabricators, mechanics, and painters have the experience and resources to make any modification that will instantly enhance your vehicle's appearance, performance, or both.
Our talented fabricators have years of experience creating custom parts for any make, model or year. Whether you have a brand new luxury vehicle that you want to add your own personal touch to or a treasured classic vehicle you want lovingly restored, we can help customize your ride to fit your personality and lifestyle.
From door panels to exhaust systems, fender flares, hood scoops and more, our fabricators can create virtually any part you need to exact specifications.
Imagine your ride all dressed up in a brand new paint job with custom detailing. You can choose from hundreds of colors and a wide variety of finishes to achieve any look you want. We can set you up with a paint job that's subtle and sophisticated or something that's bright and bold to reflect your personal style.
You have countless ways to improve your driving experience with custom interior work. We can install a state-of-the art entertainment system, complete with DVD player and iPod and satellite radio integration. We can even install in-headrest monitors for the viewing pleasure of your backseat passengers.
Update your ride with new wheels, a custom grill, stylish side mirrors, lighting, a custom bumper, or all of the above. Our design specialists will be happy to discuss your options and help you select enhancements that will exceed your expectations.
When you want your car to run as good as it looks, our mechanics can work wonders under the hood of any vehicle. If your motor is running a little rough, leave your baby in their capable hands and they will have her purring like a kitten in no time.
Our professionally trained mechanics specialize in classic vehicle and European auto repair and restorations. See us first for fabrication, upholstery installation, suspension work, or anything else you need for your street rod, muscle car or high performance sports car.
We offer a full range of design enhancements, including custom suspension work, ground effects, and installation of hydraulics or lift kits.
You can trust the professionals at 24/7 Motorsports whether you want better performance, a new paint job, a killer entertainment system, or a complete restoration of a treasured vintage vehicle. We can also help with customization of your RV, motorcycle, dirt toy, golf cart and just about anything else that runs on land or in the water.
Contact 24/7 Motorsports in Las Vegas today at 702-757-2471.