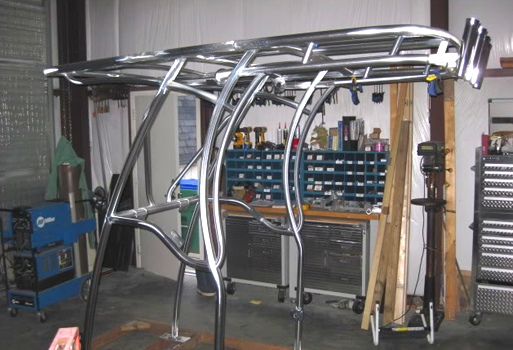 CUSTOM MARINE FABRICATION
A day on the water is a great way to beat the summer heat and if you want to cruise the lake in style and comfort, the professionals at 24/7 Motorsports can provide endless ideas for your custom marine project.
Whether you are updating your fishing boat, pleasure vessel or personal watercraft, you need to talk to our team of experts first. We can set you up with new canvas, deck carpet, light fixtures, upholstery, electronics, and more.
Our talented fabricators can help you design a functional but attractive galley area with new energy efficient appliances, recessed lighting, and creative storage solutions that make the most out of the tiniest spaces. Want a new teak table that stows away when not in use? We can help.
Canvas and deck carpeting are vulnerable to damaging UV rays, especially in Southern Nevada during the summer. You can expect to think about replacement every five or six years depending on how often you use your boat and where and how you store it during the winter.
We can install a fashionable bimini top in any color you choose regardless of boat make, model, or year. Our boat customization experts can help you select a durable deck carpeting in colors to complement or contrast with your boat's existing or new canvas.
If you are looking for ways to remodel or customize your fishing boat, the team at 24/7 Motorsports can outfit your vessel with all the latest and greatest fishing accessories and gear. We can install sturdy rod holders, a fish finder, a depth finder, and roomy storage bins for your catch of the day.
If you want your vessel to stand out from the crowd, our talented painters will create a one-of-a-kind look that will get you noticed on the water. Choose from eye-catching pearls, metallics and tri-coats, in a huge variety of colors. We can add a custom graphics package to complement your new paint job and we can paint almost any material, including carbon fiber, fiberglass, and more.
Count on us when it's time to replace your steering wheel, update your navigation dials, or enhance the interior or exterior design of your speed boat, yacht, or fishing boat. Our experts can help you through every step of your remodeling project from design conception to execution. 24/7 Motorsports has the resources, materials, and experienced remodelers to turn your watercraft into the vessel of your dreams.
Call as at 702-757-2471 today for custom vehicle work at a price to fit any size budget.