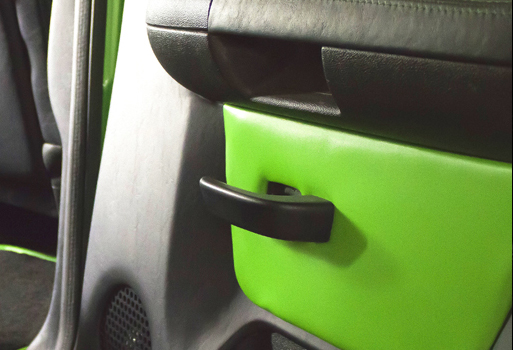 CUSTOM INTERIORS
24/7 Motorsports is a leader in providing vehicle owners with the best custom vehicle interior services in Las Vegas. Whether you are restoring a classic vehicle to its original beauty, tricking out your newly purchased sports car or adding an entertainment system to your SUV for the next family road trip, the custom interior experts at 24/7 Motorsports can help your vision become a reality.
Harsh weather conditions during the long, hot Southern Nevada summers take their toll on any car interior. Materials fade, crack and peel over time. If your dashboard is looking shabby and your car seats have seen better days, we can help with brand new upholstery to suit any car make, model, or year. From elegant leather seats in a solid color to creative two-tone seating with custom embroidery, we can transform any vehicle's interior into a thing of beauty.
Vehicle entertainment systems are becoming more popular as people seek ways to make the driving experience more enjoyable and productive. We can install an in-vehicle video system complete with headrest monitors to keep backseat passengers happy during even the longest road trips.
Do you want a kick-ass sound system that delivers crisp, clean sound at any volume? We can help with that. We can work with what you have and add components that enhance sound quality or we can start from scratch and install a custom system designed specifically for your ride. Louder is not necessarily better but if that's what you want, we can set you up with a system that you'll have to hear to believe.
Want to turn your ride into a rolling light show? We can add flexible LED strip lights to virtually any surface in your vehicle. Side firing strips allow installation that makes the strip invisible but leaves the light peeking through to shine parallel with the mounting surface. This is a great option for small enclosures like the driver or passenger compartment of a car.
We can also install a variety of components designed to improve driver comfort and performance. State of the art navigation systems make getting from point A to point B quick and painless with no wrong turns along the way. Remote start systems allow you to start your car without the use of a traditional key. Rear view backup cameras are important safety features that enhance visibility of areas behind the vehicle and eliminate accidents.
No project is too big or too small when it comes to customizing the interior of your vehicle. Call 24/7 Motorsports at 702-757-2471 and discuss the details with one of our specialists.